Copper Mountain's Snowboard Park
While Colorado's ski resorts have long been known for their great conditions and endless rows of skiers poking down the mountains, the snowboarding wave has become increasingly evident in the past few years with more snowboard terrain parks popping up at resorts everywhere. Most all major Colorado ski resorts now have a terrain park in some form or fashion, and Copper Mountain is no different. Many people have asked us what these things are all about, so we decided to bring you the answers with a visit to Copper.

Any good terrain park consists of three key elements: kickers, rail-slides, and half-pipes. Copper has all three and in abundance. There are two half-pipes, two whole runs with nothing but kickers and one rail-slide bar (there's also a picnic table or two--that's gotta count for something). Below, we have pictures of some of these necessary ingredients: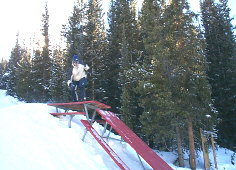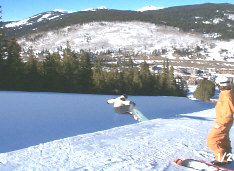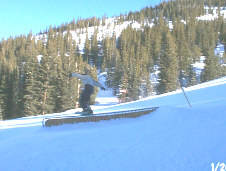 Yep, Copper's got it all; big parks, big hits and decent landings. There's just one thing this place is missing: SNOW. This park, like most any other park in the state, is very icy. This makes the landings very unforgiving so you better plan on sticking the landing or paying the price. Anyway, the parks are pretty nice at CM and the small half-pipe (pictured above) is one of the best we've ridden. There aren't a whole lot of different hits in the park and most are a "go really fast and clear a 20' table" type. The rhythm of the parks is pretty good, the hits tend to flow well and you could easily hit 5 in a row without ever slowing down.

If you haven't tried out Copper's park, give it a shot, just be prepared for some harsh landings unless you're comfortable sailing 20 or 30 feet. If you're looking for the best park around that has both the big and small, we'll let the cat out of the bag, it's Breck, hands down.
What's New