For those of us who have never skied outside the US, a trip to Europe can be quite an awakening.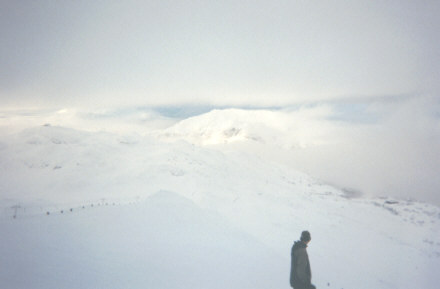 Having snowboarded at a professional level for over 3 years in the US, I felt pretty comfortable that I could ride whatever came my way. My specialty is backcountry travel, so on my recent trip to Norway, I decided to go to Hemsedal with a few locals to give European off-piste a try. Needless to say, what I encountered was unexpected...

Knowing that we were going to a "resort", I had already made up in my mind what to expect. My views were quickly changed when they handed me an avalanche beacon, shovel and probe. Yes, these are the tools I'd normally carry when traveling in the backcountry, but we were heading to a resort! Immediately, my blood pressure increased as I tried to mentally prepare myself for the now unknown. As we continued to gear up, I was getting a tad nervous considering that most of the people I would soon trust my life with didn't speak much English.

Our first run of the day took us down 40-50 degree tree covered slopes with waist-deep powder. Slough management was a constant necessity as my legs burned something fierce. This started out as a dream come true type run until we got about a quarter of the way down when I noticed the trees begin to grow increasingly close together--barely wide enough to fit my board through, much less anything else. The group I was riding with consisted of one other snowboarder and 5 telemarkers. But these were not ordinary knee-draggers, these guys were unreal! Far better than ANYONE I'd ever seen ski in the US, and I've seen a lot! These guys were ripping through the trees, taking 20' drops and landing between trees without breaking stride. As much as I disdain skiing, I couldn't help but watch in awe as they cruised past me several times while I tried to dig myself out of the bloody creek I kept falling in--it pays to be a local and no where NOT to go...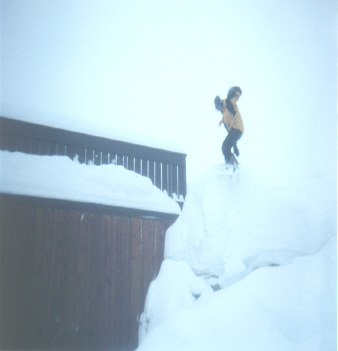 After our "warm-up", it was time to go off-piste (I thought that WAS off-piste). We took a lift up to above tree line into total white out conditions. After walking past a big yellow sign that appeared to be trying to warn us of something (luckily, I can't speak or read Norwegian), we dropped off the back side of the mountain into what has to be some of the most incredible skiing in the world. We dropped into perfectly spaced trees with knee to waist deep pow, completely untracked with 10 foot drops everywhere you looked. The riding was truly epic (except for the occasional creek that lured me in several times like a harpy), the stuff Warren Miller movies are made of. Face shots galore. After about 15 minutes of this "punishment", we reached the bottom where we had to take a taxi to get back to the ski resort. Upon reaching the base, I insisted that we go back and got no arguments. We took the lift back up to the top and started hiking over the ridge when a group who had gathered at the sign began yelling at us. Quickly we learned that two skiers had just triggered a hard slab about 50 yards from where we just were and were buried. Ski patrol went over the ridge to look for them and suggested that everyone go find somewhere else to play. We headed back down to the base in a somber mood realizing that those two guys could have just as easily been us. A sense of mortality always tends to ruin an epic pow day like this. We made several more runs that day within the ski area boundary before heading down for the very crazy apres`-ski activities at the Hemsedal Cafe (a must-do). It was here that we found out that one of the men buried didn't make it.
Snowboarding in the backcountry of Europe can be one of the most rewarding experiences of your life, and on a good pow day, I'll almost guarantee that it will rival anything you've ever done in the states. But go prepared, always be on the lookout, and always travel in groups. If you've never skied in Europe, then you've never truly skied. And if you think you're good here, a trip to Hemsedal may have you thinking twice after the first run. Be careful out there.